SIBO Restaurant @ Elk Cove Inn
Our restaurant is open to the public.
We also offer outdoor dining and in-room dining for our overnight guests.
*
Breakfast service is always available for our guests.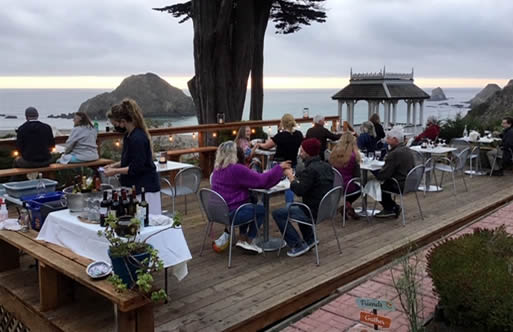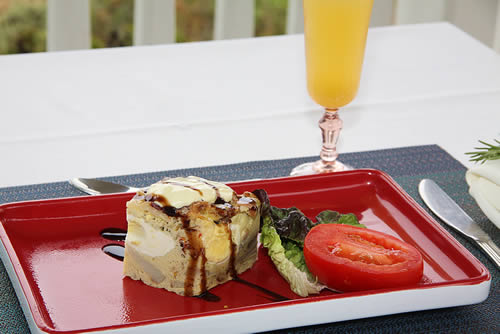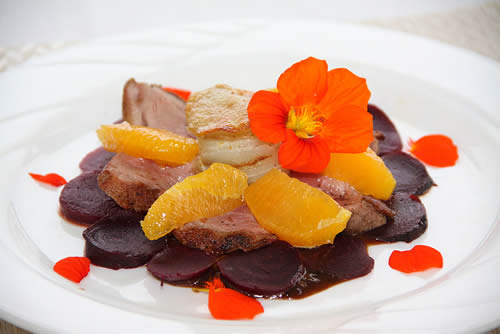 BREAKFAST
Greet the day with a bountiful gourmet champagne breakfast – served to your room each morning between 8:30 and 10:00.
Please note that we cannot accommodate celiac, nut, wheat, soy allergy, or severe shellfish allergies. Vegan and vegetarian options are available on request and should be noted at the time of reservation. Any modifications received the day of may not be accommodated.
DINNER
Our full Sibo restaurant is open Thursday through Monday from 6pm to 7:30pm.
For your convenience, we have a Bistro Grab & Go menu available on Tuesdays and Wednesdays with pick-up at the office from 5:30pm to 6pm.
For late arrivals, meals will be dropped off in the room at 6pm.
Please view either menu below and place your order by using the Reservation Widget on this page.
All orders must be placed by noon on the day of your reservation.
If you have any questions call 707-877-3321 and press option 2 for the front desk.
We also have a wonderful election of local wines and beers for purchase during the day or at dinner service.
Our in-house Chef, Victor Passalacqua will undoubtedly give you a memorable experience of French Eclectic Cuisine.
Born in Peru, from Spanish and Italian decent, Victor found a passion in cooking and got his Hospitality Management education from L'Ecole de Lausanne in Switzerland. His search for perfection brought him to the kitchens of Grand Chefs like Paul Bocuse, Edward Merard, and Georges Blanc.
Before joining our team in Elk, Victor owned and operated various restaurants in Miami, FL.and was on the Culinary Board of Miami Dade Culinary Institute.
Together with his wife Melissa, who is a Certified Sommelier and a Wine Educator, they excel in the art of pairing food and wine, and hope to bring the best of both to your table.
SAMPLER OF OUR BREAKFASTS AND DINNERS
"Peace and Beauty! I cannot imagine a more incredible and relaxing experience then Elk Cove Inn. We were immediately upgraded to a full view room (midweek), Surfsong, everything it's name implies; falling asleep to the sounds of surf while watching the sun set over the ocean! Staff, food, environment, hiking, beds, trails to beach and tide pools are exceptional! Only 30 minutes from a fun day in Mendocino and ocean-bluff hiking trails. I normally prefer to try new places, yet this was my third time staying here and I definitely plan to return!" – Santa Rosa CA, TripAdvisor