Mendocino Coast B&B Spa Services
Experience our healing sanctuary — a meditative, intimate and beautiful setting where you can relax and rejuvenate … and couples can reconnect. Feel your body melt under the purest organic and cruelty-free oils, minerals and salts in the hands of our expert massage and body therapists. Our private cocoon caters to only 1 or 2 clients at a time. It's just you, your therapist and the serenity. Treat yourself. Reward yourself.
Reservations: 1-800-275-2967 or innkeeper@elkcoveinn.com
Advance reservations are required. Spa guests must be 18 years or older.
Cancellation Policy: Must cancel appointment at least 48 hours of scheduled time or full fee will be charged.
Elk Cove Individual Signature Massage
Deep tissue not available with this treatment.
60 minutes
$125.00
Elk Cove Individual Signature Plus Massage
Your massage therapist will tailor your treatment to your individual needs, respecting any injuries or concerns and addressing particular areas of tension. At the end of the massage, hot towels are applied to the feet leaving you feeling totally relaxed and rejuvenated. Deep tissue supplement + $25.
90 minutes
$150.00
Elk Cove Tandem Massage for Couples
Our Signature Massage that allows couples to enjoy their experience together, with two massage therapists.
60 minutes
$250.00
90 minutes
$275
Couples Renewal
Our most popular treatment. Enjoy side by side one hour massages followed by a private aromatherapy steam shower and sauna session for two. You will float out of the spa! Deep tissue supplement + $25.
90 minutes
$295.00
Bowen Therapy
This is a treatment that provides deep relaxation, relieves pain in specific areas and increases energy. It is soft tissue work that releases facia, creating muscular and structural re-balancing, bringing the body back into harmony. (More about the Bowen Technique here.)
60 minutes: $90 (1 person)
90 minutes: $150 (2 persons)
Healing Hot Stone Therapy
Breathe deeply as your therapist massages you with water-heated basalt stones, creating sensations of warmth and comfort, melting away knots, tension and stress. The relaxation of this deeply healing treatment will last long after your massage is over. Deep tissue not available with this treatment.
90 minutes
$185.00
Serenity Sea Polish
Enjoy full body dry-brushing to invigorate the skin and support increased circulation, followed by a full body scrub with custom-mixed sea salt and seaweed in jojoba oil to exfoliate and polish the skin leaving it glowing and you feeling energized. Your private aromatherapy steam shower will allow the benefits of the scrub to sink in and the treatment is completed with a full body one hour massage.
90 minutes
$185.00
Facial Wrap w/full body massage
This fabulously comprehensive treatment offers the luxury of a full body one hour massage with a facial massage. For the facial, we use organic ingredients formulated specifically for each client and include acupressure, gentle cleansing, a scrub, mask and light moisturizing to leave your skin feeling dewy soft and rejuvenated. too.
90 minutes
$185.00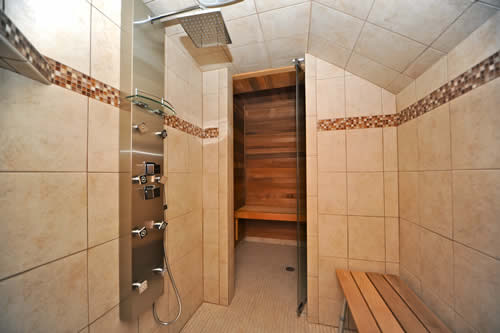 Add-On
(not available separately)
Deep Tissue Plus – $25
Prenatal Plus – $25
Aromatherapy Shower & Sauna (1 person) – $35
Aromatherapy Shower & Sauna (2 persons) – $40
"Life is But a Dream at Elk Cove Inn. We cannot say enough good things about our experience. AND our dog, Luna, was also treated like a princess. The room was cozy and even our shower had a spectacular view of the ocean. The owner is gracious and gave us a wonderful deal mid-week. We will make this a yearly trip now." – Arnold CA, TripAdvisor