Mendocino Coast Lodging Specials
START THE NEW YEAR WITH A VACATION TO THE COAST!
January Only! We're offering our low winter rates which means $100 off per night for all the Ocean View Suites and Wavewatcher, $70 off per night for Ocean View Cottages and Mansion Rooms, as well as $50 off per night for Garden View Rooms.
Your stay includes complimentary Bistro dinners and breakfasts.
Book Online using this code: "2021"
Must book and stay prior to January 31st 2021.
(Swallows Nest Room not included.)
BOOK DIRECT for the BEST RATES on the Internet
Book your stay at Elk Cove Inn by using our ONLINE BOOKING page or by calling 707-877-3321.
Others (like Expedia, Booking.com and TripAdvisor) claim to have the best rates for Elk Cove Inn. Be assured, they don't!
Not only do we have the best rates and we offer personalized concierge services.
You can also take advantage of the special offers below.
So BOOK DIRECT and save!!!

February Only ~ ALL INCLUSIVE ~ Stay and Dine Package, tax included!
Stay any two nights in an Ocean View Junior Suites: Get room rate, breakfast & dinner for $1095. An additional person is $100/night. All additional nights are $545/night.
Stay any two nights in an Ocean View Room or Cottage: Get room rate, breakfast & dinner for $895. An additional person is $100/night. All additional nights are $445/night.
Stay any two nights in one of our Garden View Rooms: Get room rate, breakfast & dinner for $695. An additional person is $100/night. All additional nights are $345/night.
FINE PRINT
This offer is based on double occupancy.
Please note that dinner includes soup, a main dish (veg or non veg choice), and dessert. Plus a bottle of wine or sparkling cider.
We cannot accommodate ANY SPECIAL DIETARY NEEDS OR FOOD ALLERGIES. We will offer ONLY a pre-fixe meal (either veg or non-veg).
The dinner value $31.95/per person is included in the special though a 20% gratuity ($6 for 2/person) will be automatically charged to be paid to the serving staff.
Guests who book through third party website (for example: booking.com, airbnb.com, expedia.com, and TripAdvisor.com) are not eligible for this offer.
New bookings only. Does not apply to existing bookings.
Must book and stay in February 2021. Presidents Weekend / Valentine's Day is not included.
Book online here and put "ALL INCLUSIVE" and your choice of food (Veg or Non-Veg meal) in the special request section, just before accepting the terms and conditions. We will adjust the rate and send you a receipt. Please note, "ALL INCLUSIVE" is not a promo code.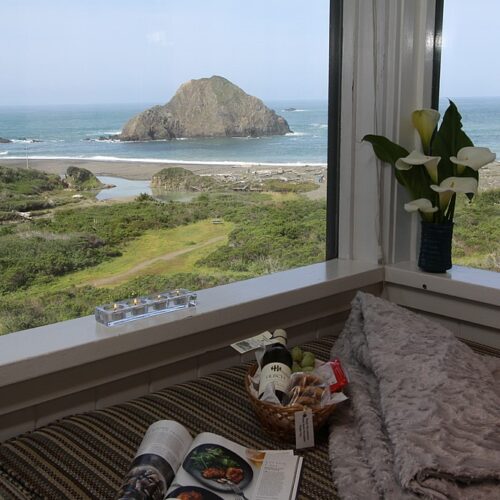 Honoring Our Military
Elk Cove Inn, located atop a bluff with panoramic ocean views, is an ideal place to relax and rejuvenate for active and retired military members. The cool ocean breezes, sounds of crashing waves. What could be better for leaving stress behind!
We are offering active and retired military members 10% off of their room rate, midweek!
Must mention this offer at the time of reservation. Please present military ID or other verification at check in to get this discount.
CALL 1-707-877-3321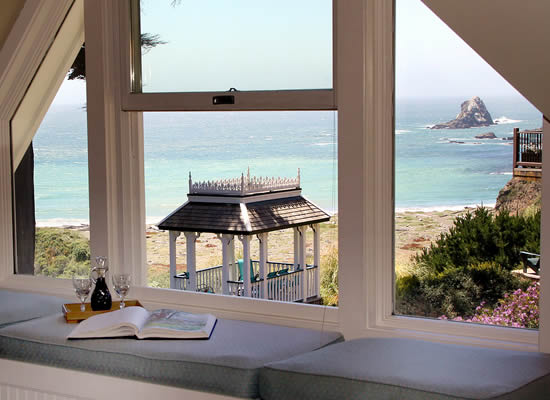 Welcome New Guest Special
To introduce newcomers to the treasure and magic that are the Elk Cove Inn & Spa, we're offering first-time visitors a complimentary, 1 or 2 -price point room upgrade based on space available at check-in.
Plus a $100 Coupon toward a future visit when you book 2 nights or more in any ocean view rooms.
Coupon will be valid for one year and will be transferable.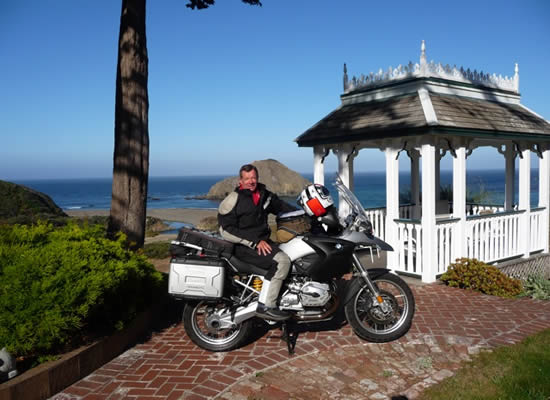 Motorcycle & Bicycle Special
Planning a 2-wheeled trip down the magnificent Pacific Coast Highway? The Elk Cove Inn & Spa has a deal for you. We know it is hard to plan ahead just how far you travel each day. That works great for us. Call in the morning or just stop in and ask what is available.
You will receive 5% off garden view room rate and 10% off ocean view room rate weekdays.
Included are a gourmet champagne breakfast and a welcome basket of wine, homemade cookies and fruit.
Our ocean front inn has easy access to the beach and plenty of safe off road parking.
"Peace and Beauty! I cannot imagine a more incredible and relaxing experience then Elk Cove Inn. We were immediately upgraded to a full view room (midweek), Surfsong, everything it's name implies; falling asleep to the sounds of surf while watching the sun set over the ocean! Staff, food, environment, hiking, beds, trails to beach and tide pools are exceptional! Only 30 minutes from a fun day in Mendocino and ocean-bluff hiking trails. I normally prefer to try new places, yet this was my third time staying here and I definitely plan to return!" – Santa Rosa CA, TripAdvisor