Pet-Friendly Mendocino Coast Lodging
The Elk Cove Inn & Spa welcomes our four-legged guests but as with our "upright" guests there have to be a few policies so that we have no unpleasant experiences.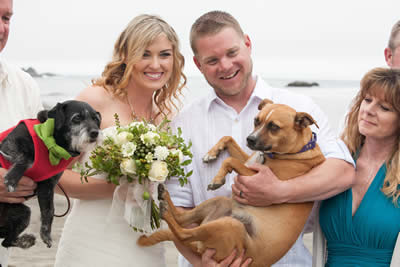 You MUST notify us at time of reservation if bringing a pet. There is a limit of two well-behaved dogs allowed in the room.
PET FEE: $30 per night / per pet.
Pet-Friendly Lodging in these rooms only: Molly's Garden, Drew Suite, Burk Suite, LE White Suite, Sam McCanse Suite, Surfsong, Ridgeview, Wavewatcher, Hideaway, Greenwood, Cliffside Covey and Bavarian Cottages.
Keep in mind, not everyone likes animals (can you imagine!!!). We need to be sure that pets do not interfere with the other guest's enjoyment of the inn. Please, no aggressive breeds or young puppies. If there is a problem and it is not corrected, we are so sorry but pets and their parents will need to leave the property and refunds will not be issued.
1. Please don't leave me alone in the room or unattended on the property. I am away from home and want to be with you. I will be OK in the car because it is familiar while you are having breakfast, happy hour, or using the spa.
2. While in the public areas of the inn, please keep me on leash. I would not want to get lost and please do not bring me into the dining room—too tempting!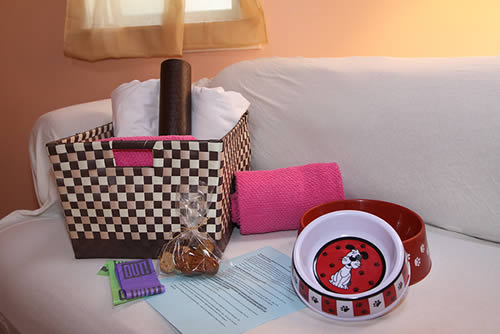 3. Before we come, please make sure I am looking and smelling my best and have all my shots, flea and tick care. (You know how proud I am).
4. Please use the pet "relief" area at the north end of the parking lot and clean up after me. I like to be well behaved and have my privacy while I do my business. Trashcans are located in the walkway between the downstairs suites and on the south end of the mansion.
5. If I have an accident in the room, please tell someone as soon as possible so it can be properly cleaned. I would feel so guilty if it ruined anything.
6. And remember, if I damage anything or cause an injury or lost revenue, you are responsible (I do not have any money).
7. Your on file credit card (I do not have on of these either) will be charged for any and all damage I do.
8. My voice may be music to my ears but it is not music to our human neighbor's ears. Do not let me bark or make loud noise in the room. I understand that we might be asked to leave if this happens.
9. Thank you for bringing me to this great getaway place. I want to be really good so they will invite us back again.
"Lovely property and comfy cottage type room. The view of the beach could be enjoyed from our patio, the chairs inside and even from the bed. Really an incredible view. It's a short walk down to the beautiful beach where I found several abalone shells. Our dogs loved it here too. Off leash beach was super fun. Lots of things to smell and dig up. And caves to explore. And the staff is very accommodating. They even had a doggie welcome basket waiting in the room. The beach has a creek running to it that creates a bird filled lagoon on one side. Brought in about a hundred pelicans! Such an awesome sight. The breakfasts were yummy with a good selection each day. Our anniversary dinner was excellent. Just delicious! With bonus of an amazing sunset and a wedding going on at the beach! Such a sweet evening. We enjoyed our stay very much. I didn't want to leave. Hope to return some day." – Carol B, TripAdvisor